Summer Escape to France and Italy – Part 2 Piedmont, Alba, Turin, Lake Maggiore, Milan
It took us a full day and five trains before we arrived in beautiful Alba in the Piedmont region of Italy and we were not disappointed. We were lucky to have a lot of help from the locals, especially with some quick train changes, but it was worth it. The city of Alba is sophisticated and family oriented and we felt comfortable, welcome and safe.
There were castles, wineries, beautiful churches and festivals and I tasted my first truffle pasta, a speciality of the area. Tuesday night the city came alive with music, food and dancing.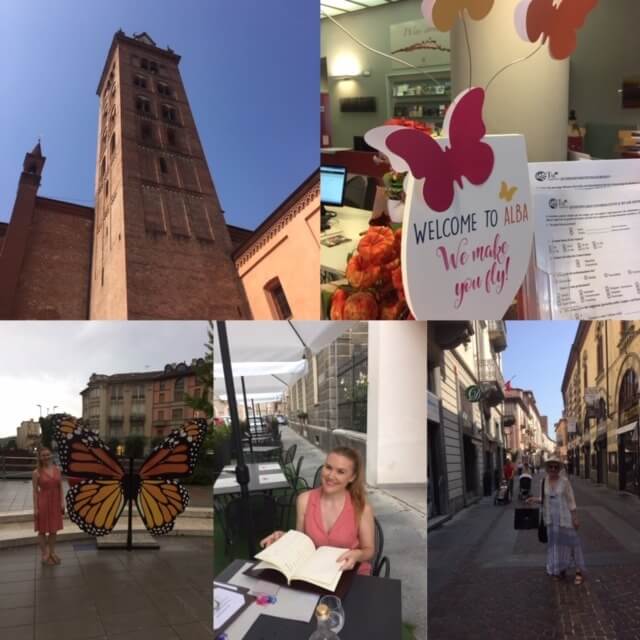 We traveled to Turino for the day, did a little shopping . . .
said goodbye to Briana's friend Angie, before heading for the stunning Lake Maggiore.
We spent our final day in Europe, visiting three islands on the lake – Isola Bella, Isola Madre, and Isola dei Pescatori.
The lovely staff at Caffe Bolongaro in Stresa, looked after our luggage for the day which left us free to jump on and off ferries and to catch the ferry we almost missed at Isola Madre.
The best driver drove us back to Milan Airport where we stayed 2 minutes away from
Terminal 1 at The Villa Malpensa – thoroughly recommended.
Then suddenly we were homeward bound. I was privileged to spend a glorious 2 1/2 weeks traveling with my daughter and some of it with her friend Angie.
There is so much beauty in the world, but there is no place like home .