Subbie and his mate – Melbourne Cup Day
Melbourne Cup Day yesterday was, weather-wise, reminiscent of Melbourne Cup Day 1992 when 30 years ago, a dappled grey racehorse named Subzero raced across the finish line to win. I've enjoyed being involved in a number of functions over the last few weeks, where I was able to talk about the book 'Subbie and his mate'.
I had the privilege of working with Graham Salisbury and Subbie on this book and it had Graham's blessing. (I read draft number 4 to Subbie in his favourite paddock – I still have that copy with faded carrot juice dribbled over it.)
It's a love story – they lived for each other.
The story is about love, kindness, trust – the bond shared between a man and his beloved horse. The story shows children the importance of looking after an animal and if you do, how much that animal will give back to you.
Subzero was unique – he was very intelligent but also kind. He seemed to know to be gentle with children, especially sick ones and the elderly.
At the book launch in March, a lady told me she was at the Melbourne Cup in 1992. When the rain started her dad gave her $50 and said 'Go and put it on Subzero.' He was a stayer, not a sprinter.
In the Casino lift – two elderly ladies had been playing the pokies. As the lift doors opened, Graham heard one say to the other – 'I must have had more drinks than I thought, – I swear there was a horse in that lift!'
Graham put a toy cow in Subbie's float to stop the swallows nesting there. One day Graham thought he'd remove the cow to see if Subbie would notice. The moment he was in the float Subbie started snorting and protesting. Subbie was a very intelligent horse. Subbie liked listening to Johnny Cash and other country and western music. He had speakers in his float.
They visited in excess of 800 schools
Subbie had his own Working with Children Card
100,000 kids touched Subbie.
Teachers notes are on the Ford Street Publishing Website.
Subbie's vet, Dr. Sarah Jalim, Bendigo Equine Hospital, said she'd heard of their special relationship, but nothing could have prepared her for meeting them and seeing them together.
Graham once said to me – 'Animals will give back what you give them. If you look after them they will look after you.'
Graham said to me 'That horse would follow me through fire!'
The book is published by Ford Street Publishing and illustrated by Mark Wilson who has done the most superb illustrations.
'There is such kindness in that horse – big kids, little kids, everyone loves him.'  Graham Salisbury.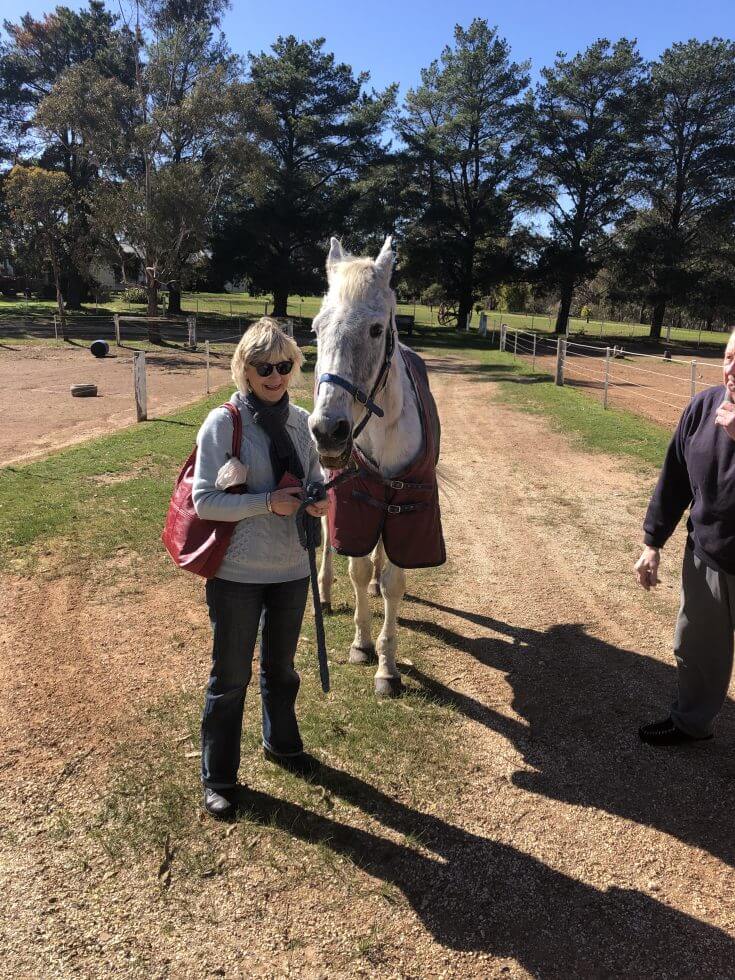 A few facts:
Subbie was 16.2 hands, 520 kilos and shoe size 7.
All horses celebrate August 1st as their birthday. (Subbie 26 Sept)
Subbie shared his birthday with Gandhi, John Lennon, Oscar Wild.
Subbie was a stayer, not a sprinter. He ran very well on wet tracks.
Victoria races run anti-clockwise.
Graham was Clerk of the Course for almost 45 years.
Lee Freedman bought Subbie for a group of 4 owners.
Michelle Payne was one of the apprentice jockeys who used to ride him.
Greg Hall rode Subzero to win the 1992 Melbourne Cup
They both died at 2.38 p.m. on Saturday afternoons –
Graham 20 June 2020 and Subbie 29 August, 2020 – ten weeks later.
Subbie was almost 32 – equal to over 90 in human years.
Arthritis – sore muscles. Colic, kidney failure, Peritonitis.
Subbie Died of heart failure.
Subbie's racing history reads – 6 wins, 6 second, 5 thirds.
Our greatest wish with this book is for the world to know what they did – the joy and happiness they brought to the young, not-so-young and especially to sick children. They gifted special moments to so many.
Corinne Fenton