Showcasing Illustrator and friend, Robin Cowcher
In 2013 I'd been working on a picture book about a little West Highland Terrier, lost in the city of Melbourne in the late 1950's. An Illustrator hadn't been selected until Walker Books Art Director, Donna Rawlins, mentioned The Age Spectrum Illustrator, Robin Cowcher. Little Dog and the Christmas Wish would be Robin's first picture book.
Because Robin's illustration style is quite spare, my text had to lose a few hundred words – a challenge! I shed some tears when I had to part with some special, carefully chosen words, but mostly when I said goodbye to a favourite character and a reference to a beloved novel – Great Expectations.  In the end it was the right decision and the pain was worth it.
Robin and I first met for a cuppa with Black Dog Books Publisher, Maryann Ballantyne and from the moment I met Robin I knew my words were in safe hands.
The book was launched in the beautiful Block Arcade outside The Hopetoun Tea Rooms, because that's where I first began writing the story. I was waiting for a friend to join me for lunch, when, in my mind's eye, I saw Little Dog rushing in from Collins Street and sheltering from the rain.
'Little Dog dashed across the wide street, over the tram tracks and …               out of the rain.'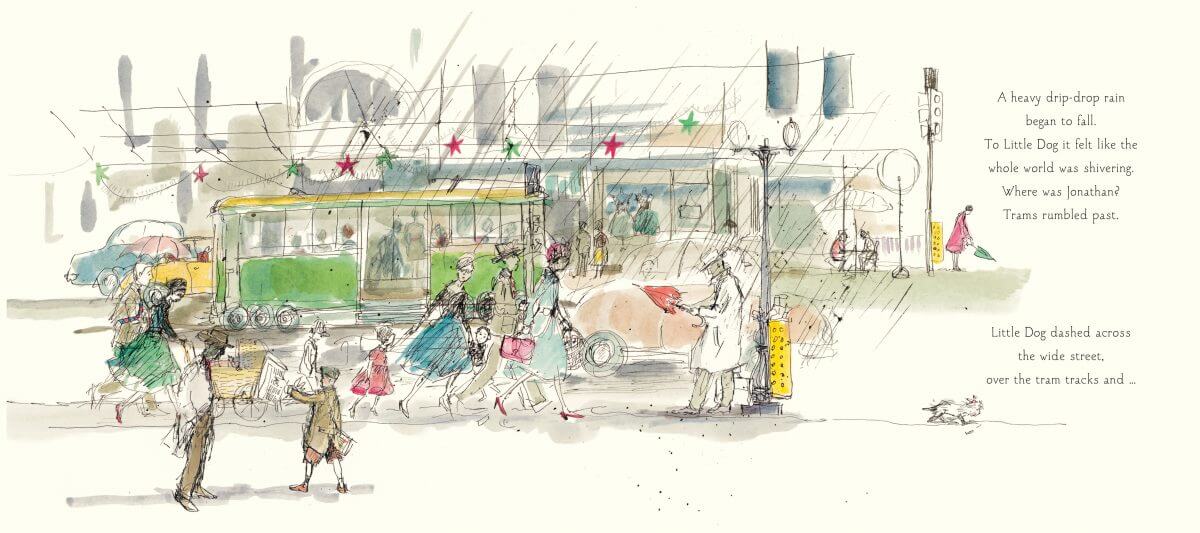 Prior to the launch I'd met Harry, the Collins Croydon Bookshop Dog who quickly became the launch celebrity and book mascot. The rest is history now, but just after Christmas 2014, I received a phone call which changed the book's journey and our lives for quite a while. The book had been chosen as the theme for the 2015 Myer Christmas Windows. It's one thing for an author to see their words become illustrations, but another step again to see characters you've created moving on a different stage.
The 'miniature me' in the left foreground, was included in the Myer Windows because that's where the story began. I gifted this to The Block Arcade where it now sits with other windows characters.
Publicity was quite frantic for a while there and I remember saying to Robin in the back of a taxi one day – 'Please don't think that all of this is normal for a picture book!'
Harry was also invited with us into Stage One and used as a model for the ten Little Dogs being made for the windows as well as continuing his role as publicity pooch.
The following Christmas Robin, Harry and I travelled to Geelong for the Geelong Myer Windows and parade and the following years we journeyed to Ballarat and finally I said goodbye to the Little Dog Windows in Wagga Wagga in 2018.
In 2015/16 we again worked together on You Have My Heart and Counting on You, working with Karen Tayleur, then Editorial Manager at The Five Mile Press. These were such enjoyable projects for us all, which came about quite by accident. Robin had illustrated a quick sketch on the bottom of an email of a little girl and a heart – I began writing from that sketch.
Robin and I again teamed up with Maryann Ballantyne Black Dog Books/Walker Books Australia for a sequel to Little Dog, called Little Dog and the Summer Holiday, launched in 2017. This time Robin came to my place and illustrated from an 'action' Harry as he raced about our backyard. This book is set after Christmas Day when the family are heading on a caravan holiday from Melbourne to Sydney, stopping at familiar sites like The Dog on the Tuckerbox, five miles from Gundagai, along the way. Robin's research for this book was detailed and intricate, as is evident in the superb illustrations of old fashioned box-Brownie cameras, caravans, hurricane lamps and so much more.
Robin still illustrates for Spectrum in The Age as well as freelancing. Her website can be found at:
http://www.robincowcher.com.au/ and also t link to an interesting article Robin wrote about the Little Dog windows for the Sydney Morning Herald. https://www.smh.com.au/entertainment/robin-cowcher-book-illustrations-brought-to-life-in-myer-christmas-windows-20151102-gkom8c.html