Scruffle-Nut is on the way
It's always exciting to introduce a new book and especially so when it's one which is close to your heart. Scruffle-Nut will be released on October 1st in Australia and the UK.
Scruffle-Nut is a fiction story which began while I was walking through Central Park in New York in 2012 while attending a SCBWI Conference there. I'm not particularly a busy-city person so I regularly escaped the noise and fast heart-beat of New York to walk and sit and take in the peace. All about there were people walking dogs, others exercising in all forms, people going places and coming from other places, workers enjoying their lunch break and people with somewhere or nowhere to go.
There were also the quiet, almost hidden away spaces and as it was January, it was very cold, but of course I noticed the busy little grey squirrels scurrying about.
I began writing there and then on scraps of hotel paper or whatever was in my handbag and I returned many times with a notebook and my ipad. I continued to work on the story while I traveled as a tourist around some lovely parts of the USA.
The story grew and when I returned home, it was the kind of story I worked on for a while, then put away for a while longer. I got busy with other books but eventually I sent Scruffle-Nut to a publisher in the US but when I saw that New Frontier had opened a London office, I sent the story to London.
Scruffle-Nut has been beautifully illustrated by Owen Swan, our second book together, with a third coming out late next year. The book has an understated theme of bullying and as I read it to a few classes during book week, it was wonderful to hear the silence.
Storytime at The Little Bookroom in Melbourne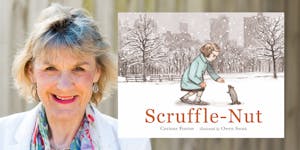 On September 26 at 10.30 a.m. I'll be reading Scruffle-Nut at Storytime at The Little Bookroom – full details here: https://www.eventbrite.com.au/e/special-storytime-with-corinne-fenton-scruffle-nut-tickets-71136807105
Launch at Nomad Books in London
and on October 5 at 11.00 a.m. New Frontier, Owen and I will be launching Scruffle-Nut at Nomad Books, in London. More details to come.