One Lone Swallow – Some lovely reviews
First is the wonderful review from The Surfcoast Bookshelf and the second is from Storylinks. Thank you both. Other reviews can be read in the review section for One Lone Swallow on my website. Also, the Teacher Notes on the New Frontier Website, are fabulous.
With our current travel restrictions, many people are saying that this book is taking them to a long-ago Florence.
One Lone Swallow by Corinne Fenton illustrated by Owen Swan
'In the Italian city of Florence, in a time-long past, one lone swallow flies. With a bird's eye view of the beautiful city, she searches for her mate…'
I love Italy and the city Florence and as the idea of travelling anytime soon slips away, I found this book particularly heartening and uplifting.
This delicate, beautifully descriptive tale is a delight. The illustrations take you on an evening journey past much of the important architecture of Florence. The tonal palette of predominantly blue works well to create a mood and sense of time and place. The end papers reflect the much loved symbol of Florence.
Corinne dedicated the book to Italy…her art, her music and her people. This is such a warm hearted book which I highly recommend.
The publisher New Frontier provides extensive teacher notes. Magnifico!!
The Surfcoast Bookshelf
One Lone Swallow
by Corinne Fenton
Illustrated by Owen Swan
Reviewed by Jillian Custance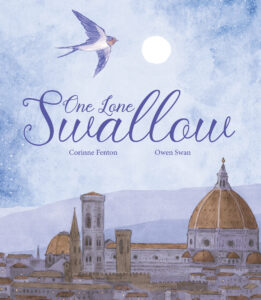 Corinne Fenton is the Australian author of over a dozen picture books. For One Lone Swallow she has once again teamed up with illustrator Owen Swan, after working together for the two other books Scruffle-Nut and My Friend Tertius.
Set in Italy in the early 1800s the book follows a single swallow out at dusk in search of her mate. As she ducks and weaves through, under, and over the streets of Italy following the currents of the night she becomes more anxious at the thought of leaving her nestlings. Will she remain one lone swallow or will she eventually find her mate so that they may both return home?
The angle of the city buildings and structures are brilliantly illustrated showing Italy 200 years ago.  The  style is muted and dusky, showing iconic Italian landmarks from a birds-eye point of view, including the statue of Michelangelo's David, as an integral aspect of the story. The book has a gentle and flowing rhythm that lends itself to a perfect bedtime read.