New Frontier Blog Post on One Lone Swallow
New Frontier asked me some questions about the writing and background of One Lone Swallow. Questions and answers are posted as a blog on the New Frontier Website, https://www.newfrontierpublishing.co.uk/blog/corinne-fenton-talks-one-lone-swallow as well as below.
Corinne Fenton Talks One Lone Swallow
NOVEMBER 9TH, 2020
Corinne Fenton, the award-winning author of Scruffle-Nut, talks to us about her new picture book with illustrator Owen Swan, One Lone Swallow. This stunning book takes the reader on a bird's eye view journey through the streets of Florence, Italy.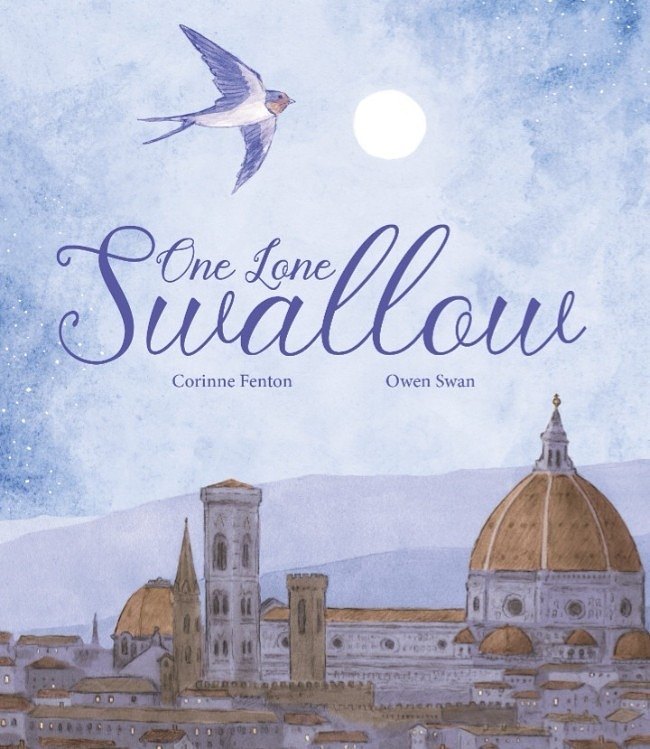 1. Tell us a little about One Lone Swallow… what can we expect from the book?
Visually, this poetic story is a bird's-eye glimpse of long-ago Florence and the struggle for survival of a family of swallows.
2. What inspired you to write the book?
Inspiration came when I was standing on my hotel balcony one evening in Florence, watching the swallows dance at twilight. In that moment, I began to write. I think I was also influenced in part, by Oscar Wilde's, The Happy Prince – a story I read out loud every Christmas. (Drives my family crazy!)
3. How long have you been working on One Lone Swallow?
I began writing in 2010 but was interrupted many times by other stories and projects. It sat in a drawer for many years.
4. What is it that makes Florence a special place?
Florence is indeed a special place I've been lucky enough to visit several times in my life. I'm not a person who is particularly into statues, but Michelangelo's David is something else. Each time I've looked upon him, I've had the feeling he is going to walk off that pedestal.
5. Are cities and other physical locations always a strong source of inspiration for you?
I feel strongly about 'writing in the real' – standing where Queenie once walked at the Melbourne Zoo (Queenie One Elephant's Story), walking through the garden at Raffles in Singapore (My Friend Tertius) and meeting the squirrel I called Scruffle-Nut in Central Park in New York (Scruffle-Nut).
6. What was it like working with Owen Swan on this book?
This was the third book Owen and I have worked on together – it gets better each time. Exactly this time last year we were in London to launch Scuffle-Nut and Owen went on to Florence to research and sketch on the banks of the River Arno, beside Italian artists and painters.
7. Were there any particular challenges when writing One Lone Swallow?
Looking back at the drafts, I believe I had the voice and poetic quality in the beginning, but the original story needed more conflict – it needed more happening, which came later.
8. What do you hope readers will take away from it?
I would hope readers take with them a sense of place – revive memories for those who have visited this beautiful city, and for those who haven't, give them a taste of what she is like.
I've always said, if I get a chance at a second life, I'd like to come back as a swallow.
Most of all, I hope readers enjoy it.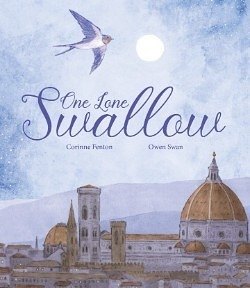 One lone swallow flies out into the night to find her mate, leaving her nestlings behind.
Will she find him and return home safely? ​
This stunning and evocative book takes you on a bird's eye view journey through the streets of Florence, Italy. ​
ORDER THE BOOK