My Favourite Bookshops – Gateway Bookshop, Wagga Wagga, NSW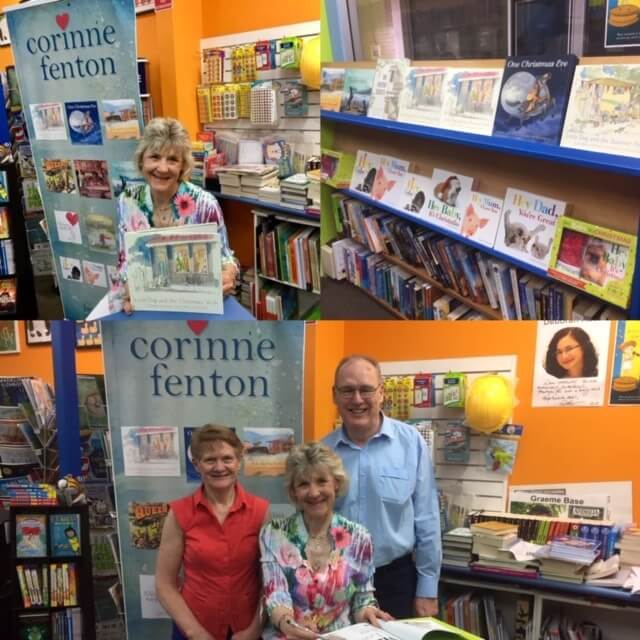 In December last year I had the privilege of visiting and signing books at the Gateway Bookshop in Wagga Wagga, New South Wales owned by wonderful booksellers David and Fran Payne.
The bookshop is bursting with a wonderful array of children's and school educational books, both fiction and non-fiction and for the 50 months leading up to December last year they were celebrating two children's book authors or illustrators a month.
What an honour – I shared the final spot with legendary author Frances Hodgson Burnett. There were many photos of fellow authors, illustrators and friends about me so I felt very much at home.
So if you are passing through or better still, live in Wagga Wagga why not drop by and choose a special book for a child you know. If you are a children's author or illustrator visiting the area, I'm sure David and Fran would love to hear from you.
Here's a little background on the bookshop:
We are a retail bookshop specialising in children's and school education books, both fiction and non-fiction. We supply as a retailer and also commercially for schools and teachers. We're a locally-owned bookshop specialising in supplies that support reading and education for children of various ages. We are community-focused and provide a friendly service, combined with best-selling books and resources for retail as well as for local schools.
We've been in partnership since 1968, and we're celebrating our 50th anniversary! We have extensive experience and knowledge of all education books for various ages.
Contact us today for all of your education books needs by calling
(02) 6921 3468.
https://www.gatewaybookshop.com.au/
In the lead-up to Gateway's 50th Anniversary in 2018, every month we have celebrated two children's book authors and illustrators from Australia or overseas with 20% discount off their books for both that month and the following month. This "50 Years in 50 Months" program started in September 2014 and ended December 2018.
See our Photo Album "Fifty Years in Fifty Months".
Sep2014 – Roald Dahl and Quentin Blake
Oct2014 – Jan Ormerod and Elyne Mitchell
Nov2014 – Eric Carle and L.Frank Baum
Dec2014 – L.Bemelmans and Dorothy Wall
Jan2015 – Deborah and Kilmeny Niland
Feb2015 – Jeff Kinney and Belinda Murrell
Mar2015 – Judith Kerr and Michael Morpurgo
Apr2015 – Paul Jennings and Bob Graham
May2015 – Astrid Lindgren and Lauren Child
Jun2015 – Morris Gleitzman and Robert Ingpen
Jul2015 Bronwyn Bancroft+ Boori MontyPryor
Aug2015 – EB White and Pamela Allen
Sep2015 – John Flanagan and Oliver Jeffers
Oct2015 – Lynley Dodd and Rick Riordan
Nov2015 – R.A. Spratt and Lewis Carroll
Dec2015 – Helen Oxenbury+ John Burningham
Jan2016 – Janet and Allan Ahlberg
Feb2016 – Ethel Turner and Jeannie Baker
Mar2016 – Eoin Colfer and Derek Landy
Apr2016 – Anna Fienberg and Kim Gamble
May2016 – Hans Christian Andersen + Patricia Wrightson
Jun2016 – Oliver Phommavanh + Colin Thiele
July2016 – Sally Morgan + Dick Roughsey
Aug2016 – Beatrix Potter + Jacquie Harvey
Sept2016 – Rachel Renee Russell + Anthony Browne
Oct2016 – We've reached the halfway mark!
Nov2016 – Aaron Blabey + A.A.Milne
Dec2016 – Julie Vivas + Margaret Wild
Jan2017 – May Gibbs + Ron Brooks
Feb2017 – John Marsden + Shirley Hughes
Mar2017 – Julia Donaldson +Axel Scheffler
Apr2017 – Shaun Tan + Sonya Hartnett
May2017 – George Ivanoff + Pat Hutchins
Jun2017 – J.K.Rowling + Katherine Paterson
July2017 – Martin Handford + J.R.R.Tolkien
Aug2017 – Ruth Park + David Walliams
Sep2017 – Dr Seuss and Stephen Michael King
Oct2017 – Graeme Base + Enid Blyton
Nov2017 – Andy Griffiths + Terry Denton
Dec2017 – Jackie French and Bruce Whatley
Jan2018 – Leigh Hobbs + R.J.Palacio
Feb2018 – Robin Klein + Judy Blume
Mar2018 – Kenneth Grahame + Madeleine L'Engle
Apr2018 – Emily Rodda + Lucy Cousins
May2018 – Maurice Sendak + P.L. Travers
Jun2018 – Freya Blackwood + L.M. Montgomery
Jul2018 – Deborah Abela + Alison Lester

Aug2018 – Mark Wilson + Suzanne Collins

Oct2018 – Norman Lindsay + Kate DiCamillo

Nov2018 – C.S. Lewis + Ursula Dubosarsky

Dec2018 – Corinne Fenton + Frances Hodgson Burnett