My Christmas Books
In last week's blog post I wrote a little about my Christmas books so this week I thought I'd give some information on the illustrators for each and background on how the books came to be.
Little Dog and the Christmas Wish
In 2012 I was asked by the publishers at Black Dog Books to write a Christmas story. I remember at the time Maryann Ballantyne saying – 'Make it as sentimental as you like, Corinne and we'll edit it back.' So I had freedom – which was wonderful.
I submitted several storylines but the favoured one was of a little white dog, lost and alone in Melbourne on Christmas Eve in the 1950's. Not long after I was sitting in the Hopetoun Tea Rooms waiting for a friend who was meeting me for lunch. She was late and while I waited, in my head I began to write. The storyline became so clear that as I glanced out into Block Arcade, in my mind's eye I actually saw a little white dog running into the arcade and taking shelter there. (Yes, I am quite mad.) Today a likeness sits in a glass cabinet in The Block Arcade of me writing there, created by Stage One.
There were many, many drafts, a big rewrite, changes and delays with illustrators and many tears but the book was always worth every moment we all put into it. Robin Cowcher, in her first picture book, did the most amazing job. It was launched on my birthday on 25th October, 2014 in The Block Arcade just near the Hopetoun Tea Rooms – it was a wonderful celebration including the arrival of Harry the West Highland Terrier, a total replica of Little Dog. The first print run sold out quickly and there was a rush for a reprint before Christmas. Always exciting for any book.
Then, in early January 2015 I received an exciting and wonderful phone call. The book had been chosen as the theme for the December 2015 Myer windows in Melbourne and Brisbane. I didn't believe it at first, but it was true.
Black Dog Books, Robin Cowcher, Harry (as model) and myself were very much involved with the production, but nothing could have prepared us for the windows themselves. It's one thing to see your words become illustrations, but another thing entirely to see your characters move and become real. It was the 60th Anniversary of the Myer windows, so special in many ways and such a wonderful Melbourne Christmas tradition remembered and celebrated by generations.
Little Dog and the Christmas Wish appeared in the Ballarat Myer windows in 2016,  Geelong Myer in 2017, and Myer, Wagga Wagga in 2018 and I visited them all embracing every moment.
One Christmas Eve
Because of the success of the Little Dog windows, I was honoured to be asked to write a story for the following 2016 Christmas windows. This I was doing while I was signing books at Myer on many days of the week for Little Dog. I remember drafting, writing and editing my story even in the backs of taxis. The pressure was on.
Early in 2016, even while I was still writing, Marjorie Crosby-Fairall began illustrating. Everyone was under pressure – publishers, editors, designers, the illustrator and me – but oh what fun it was!
I remember one Friday night taking photos around Luna Park and measuring distances in my mind while I tried to imagine what it was all like in the 1960's. I remember talking to the designer, Donna Rawlins in Sydney while standing on a park bench and taking photos of a magnificent sunset over the St. Kilda skyline. Marjorie used those photos for the first pages of One Christmas Eve.
The excitement continued and at times I needed to pinch myself at the amazing job Stage One were doing of the windows. The huge carousel they created in the windows was the most amazing sight.
One Christmas Eve windows followed those of Little Dog so in 2017 OCE graced the Ballarat Myer windows and in 2018 they were displayed in Myer Geelong as part of the Geelong Christmas Festival.
Unfortunately this year, Myer, Wagga Wagga did not receive the display, so it does feel a little sad to not be seeing them, one more time.
Hey Baby, It's Christmas
This book is the fourth in a series of books for babies and very young children. Hey Baby! Hey Mum, I Love You and Hey Dad, You're Great preceded Hey Baby, It's Christmas. I often find that older siblings love reading these books to their younger brothers and sisters and I've also used these books for students with low literacy skills. The large, colourful text is easy and clear to read and the cute animal photos, rather than illustrations, are appealing to children of all ages.
Hey Baby, It's Christmas is in two formats – a hard cover picture book and a boxed smaller edition, complete with santa hat.
Little Dog and the Summer Holiday
As the title suggests, this book is about a summer holiday in Australia around 1958. It follows where the first little dog book finishes and is full of Robin Cowcher's delicious illustrations of a good old Australian summer holiday, the kind which many adults will remember and children of today will want to learn about.
It has just been released in paperback and a reviewer from the Australian said, "If there is such a thing as a perfect 'grandparents' book', this is it." A lovely compliment.
Scruffle-Nut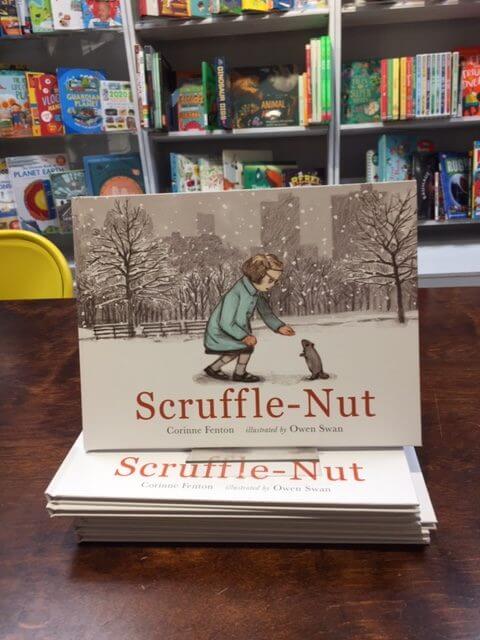 Although not a Christmas book as such, the setting of a snow-covered Central Park in 1960's New York has made booksellers in England promote it as such. (I'm hoping that it's perhaps the same in New York.) This is my latest book, released in Australia and the UK on October 1st this year.
Owen Swan, in our second book together, has created the most beautiful illustrations of characters Scruffle-Nut and his friend, a little girl called Olivia. The illustrations of a snow-covered Central Park make me tingle every time I look at them. It begins –
As winter leaves tumble and twirl
a wisp of memory
wraps itself about me
and whispers me back
to long ago . . .