Little Dog and the Summer Holiday Book Launch at Collins Booksellers Croydon
Last Saturday was launch day for Little Dog and the Summer Holiday, a sequel to Little Dog and the Christmas Wish. We were blessed with a bright, sunny morning and the beautiful 1955 caravan, plus a bundle of West Highland Terriers added to the wonderful atmosphere.
I would especially like to thank Laraine and Mark from Collins Croydon, and Harry for hosting, Natalie Thomas, former Mayor of Maroondah for launching, Robin Cowcher for her stunning illustrations, Maryann Ballantyne, Publisher, Black Dog Books for believing that Little Dog could take on another adventure, Peter for bringing along his beautiful caravan, Wattle Park Cake Shop for making the lovely cake and my sister for the challenging task of cutting, serving and making sure there were enough slices for everyone.
If you missed out on the launch, there will be story times this coming weekend as follows:
Saturday, 14 October 11.00 a.m. Dymocks Eastland https://www.dymocks.com.au/stores/vic/dymocks-eastland
    Sunday, 15 October 3.00 p.m. The Little Bookroom https://www.littlebookroom.com.au/
My launch speech is below, as well as some launch photos.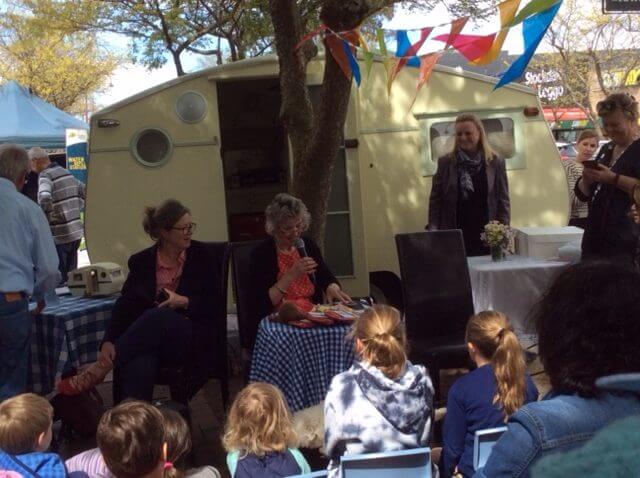 LAUNCH SPEECH – LITTLE DOG AND THE SUMMER HOLIDAY – 7.10.17
Thank you Natalie for those lovely words.
It's almost 3 years since we launched Little Dog and the Christmas Wish in the Block Arcade in Melbourne. At the time we had no idea that the book would become the theme for the Melbourne and Brisbane Myer Windows in 2015, Myer Ballarat in 2016 and this year it will feature in the Geelong Myer Windows as part of Geelong's Christmas Festivities and Parade.
But today we are here to celebrate Little Dog's next adventure which I started thinking about in the back of a taxi when Robin and I were rushing about doing signings for the first book.
But it was not until I held this book in my hands a few weeks ago, that I realised this whole story is pretty much a holiday I took with my parents and sister when I was 8 years old. Our little brother was yet to be born. I would like to add that it was a little later than 1957. There was no Little Dog (as I recall we were between dogs – Jip and Bluey) but everything else is pretty much what we did way back then.
My dad used to build our caravans and there was one incident he shared with me regularly – as he was making his way along the plywood with his saw, there appeared in front of him five little fingers – my, little 3-year-old fingers – apparently I was helping him and my fingers were lucky.
I was also lucky that Robin agreed to illustrate my old Shell passport which is full of the Shell Service Station stamps where we stopped along the way, my doll 'Fairy' and three years ago when we packed up our parents' house, I found my bathers which Mum had placed safely for me to find, and for Annie to wear.
I would like to thank Maryann Ballantyne for indulging me and allowing me to send Little Dog on another adventure, Black Dog Books and Donna Rawlins, Artistic Director Walker Books Australia, Robin Cowcher for so many beautiful illustrations and exacting research, my husband Grant for driving up and down, up and down Pretty Sally early this year while I took 100 photos to make sure that the twinkling lights of Melbourne, back in 1957, could be seen from the top of Pretty Sally.
Thank you Laraine and Mark from Collins Croydon for hosting today and of course Prince Harry who sat as the model for illustrations and for inviting his Westie friends today.
Many of you will know that Harry and I found each other 3 years ago when I wandered in here to buy a book for a friend, and there was Harry. Since then Harry and I have had a few adventures, like the time Grant offered him a giant lump of white Christmas – and Harry heaved and nearly choked on it in front of the Chanel counter at the Myer Bourke Steet entrance – and another time Harry and I squeezed along the back of the Myer windows so I could toss Harry into the windows for a weather shot on Morning Sunrise.
And thank you Peter for bringing along your precious caravan here today for us all to take a trip down memory lane and get a glimpse of what good old-fashioned holidays used to be like back in the 1950's and '60's.
Here is just a small reading –
'Each night everyone sat outside their tents and caravans playing board games as an eggshell moon glimmered high above. Little Dog made new friends, and the children played Hide and Seek and Catch the Thief until their parents called them in for bed.'
And thank you all of you for coming along today. I'll now pass over to illustrator, Robin Cowcher.