Hopetoun Tea Rooms
I woke this morning to the sad news that one of Melbourne's truly special places, the Hopetoun Tea Rooms is up for sale.
For many years, generations of my family have enjoyed visits to this Melbourne institution, drinking in the atmosphere and ambiance, while feasting upon the most delicious scones, cakes and sandwiches – accompanied by a wonderful choice of teas, coffees and cool drinks.
My more recent personal association with the Hopetoun Tea Rooms began on 15 November 2008 while I was sitting at a front-window table there, waiting for a friend to arrive. Publishers at Black Dog Books, Maryann Ballantyne and Andrew Kelly had asked me to write a nostalgic Christmas book set in Melbourne. While I waited that day, I looked out into Block Arcade and saw, in my imagination, a little white dog, sheltering from the rain. So began Little Dog and the Christmas Wish.
Once I'd researched, drafted, re-drafted, written and re-written the story, which took ages, the search was on for a suitable illustrator, which also took ages.
Talented Melbourne illustrator, Robin Cowcher painted two stunning double spreads of the Hopetoun Tea Rooms along with spare and elegant illustrations of Melbourne scenes around 1956, with Little Dog centre stage.
Finally, it was decided, and permission was granted, to launch the book where it had begun, outside the Hopetoun Tea Rooms in Block Arcade. I contacted the owner Kelly Koutoumanos who generously supplied tiered platters of piping hot scones for the launch, which took place on my birthday, 25th October 2014. Many people who attended the launch followed up with a delicious lunch in the Hopetoun Tea Rooms. The book proved very popular and sold out twice before Christmas.
Then, in January 2015, totally out of the blue, I received a phone call from Stage One advising me that Little Dog and the Christmas Wish had been chosen as the theme for the 2015 Myer Windows.
A whirlwind period followed where we all saw the book come to life with two beautiful windows featuring the Hopetoun Tea Rooms. There were moments where I had to pinch myself – was this real?
Stage One created a miniature me – part of the window display – of me with pen and notebook, sitting at a front table in the Hopetoun Tea Rooms. A few years ago I donated this mini me to The Block Arcade, where it sits in a glass cabinet next to the Tapping Man.
The Myer windows display, toured Myer stores in Ballarat, Geelong and Wagga Wagga in 2016, 2017 and 2018 supported by Christmas celebrations and parades.
On October 6, 2015 we celebrated outside the windows of the Hopetoun Tea Rooms again with the paperback of Little Dog and the Christmas Wish. This time Kelly generously had her staff make a superb launch cake which took pride of place on a white table cloth at the table's centre.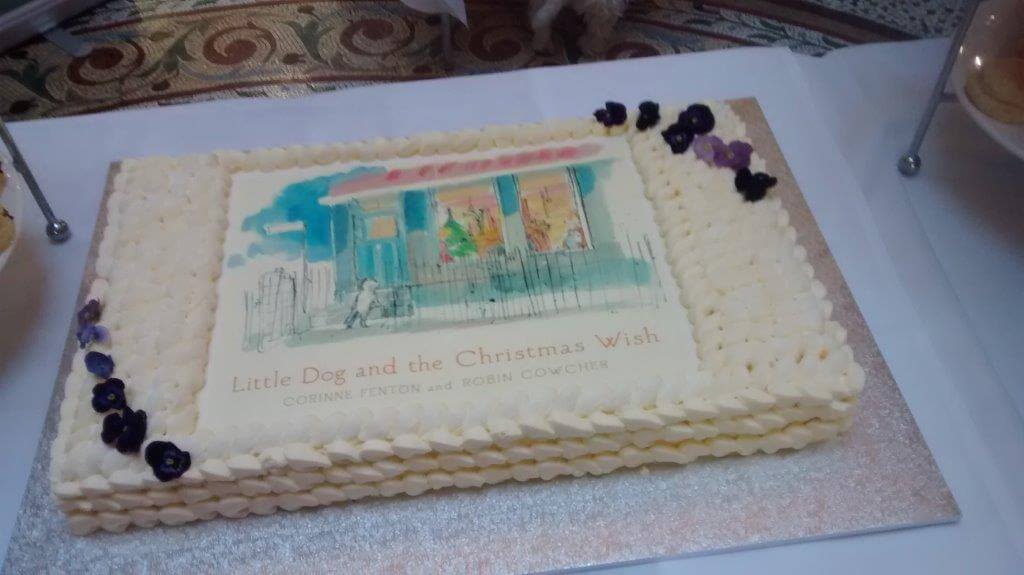 Since then, I have regularly dropped by the tea rooms to say hello to Kelly or to enjoy a lunch or afternoon tea with a friend. Always Kelly has set my special table aside and treated me with kindness and courtesy.
I wish Kelly, her family and her staff every success for the future and hope there will be a miracle – perhaps something magical might happen so that they can continue to run this special place into the days, months and years ahead.